Warning: Invalid argument supplied for foreach() in /home/monast59/public_html/templates/yoo_moustache/styles/bose-home/layouts/article.php on line 44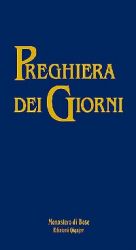 ? PIER GIORGIO DEBERNARDI
Bishop of Pinerolo
The
Preghiera dei giorni
is an excellent text, with which all Christians feel at home. It is "the art of prayer", which has matured with liberty and creativity
---
go to the NEW EDITION 2011:
{link_prodotto:id=980}
Ecumenical office for the liturgical year
PREFACE
by ? PIER GIORGIO DEBERNARDI
Bishop of Pinerolo
President of the Piedmont Commission for Ecumenism
From its very beginnings, the Monastic Community of Bose has been a bridge between different Christian confessions. It continues to be so by its style of life, by its cultivation of ecumenical theology and spirituality, by its Ecumenical Martyrology, and, above all, by its liturgy.
The Preghiera dei giorni is, in fact an excellent text, with which all Christians feel at home. It is "the art of prayer", which has matured with liberty and creativity; it is a marvelous texture of psalms and canticles, of Biblical and patristic readings, of contemplations and intercessions that are an aid to reading history with the eyes of God. Many persons use this book to nourish their daily life with the word of God, in communion with the monastics of Bose and with all monastic communities that in every part of the earth continue the marvelous experience of listening to "the inexpressible groanings of the Spirit", of which St Paul speaks in his Letter to the Romans (8,26).
Today there is a widespread need of spirituality, and in the human heart there is the nostalgia for God. Many young persons who spend days of silence in Bose find in the liturgical prayer of the monastics an answer to their seeking of sense and of hope. I hope that this Ecumenical Office for the liturgical year may be an experience of beauty and of joy; for all those who use it may it be like a spring of clear water capable of satisfying their thirst for truth and for love, as also for making newly green the desert of the heart and to illuminate their darkness. That it is used by Orthodox, Protestants, and Catholics shows with certainty that love among Christians "fins its most complete expression in common prayer" and that "when Christians pray together, the goal of unity seems closer" (Ut unum sint, 21-22).
? Pier Giorgio Debernardi
Bishop of Pinerolo
Pinerolo, 21 March 2011
Saint Benedict
go to the NEW EDITION 2011:
{link_prodotto:id=980}
Ecumenical office for the liturgical year