Information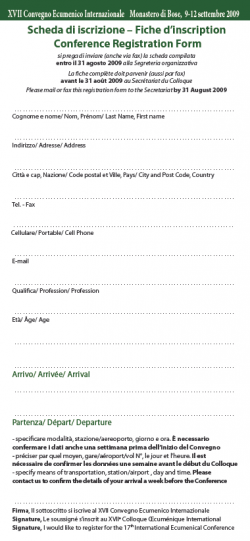 XVII International Ecumenical Conference
on Orthodox Spirituality
SPIRITUAL STRUGGLE
IN THE ORTHODOX TRADITION

Bose, 9 - 12 September 2009
in collaboration with the Orthodox Churches
__________________________

2009_SCHEDA D'ISCRIZIONE
FICHE D'ISCRIPTION
CONFERENCE REGISTRATION FORM
The Conference is open to all.
Simultaneous translations will be provided in Italian, Greek, Russian, French. English translation will be provided only if required by the number of participants who will ask for this service before 15 July 2009.
Participants are kindly requestd to arrive on Tuesday, September 8. The Conference will end on Saturday, September 12 with a festive meal.
Lodging will be provided at the Monastery and in the nearby area. there will be daily transportation service for those who are not lodged at the Monastery.
To register for the Conference, please contact the Secretariat and then send the registration form by 31 August 2009. For further information, contact the Secretariat.

RUS-ENG - ????????? ???
SCIENTIFIC COMMITTEE:
Enzo Bianchi (Bose)
Lino Breda (Bose)
Sabino Chialà (Bose)
Nina Kauchtschischwili (Bergamo)
Hervé Legrand (Paris)
Adalberto Mainardi (Bose)
Antonio Rigo (Venezia)
Roberto Salizzoni (Torino)
Michel Van Parys (Chevetogne)
How to reach Bose by plane
To reach Torino Caselle airport or Milano Malpensa airport. From these airports special buses will take people to the monastery at request: please contact the Conference Secretariat for the timetable.
By public transport, from Turin and Milan airports to get the city railway station. Then reach Santhià railway station on the Milan-Turin line.
How to reach Bose by train
Get off at Santhià railway station, on the Milan-Turin line.
How to reach Bose by car or by bus
For further information contact the Secretariat:
Conference Secretariat
Monastero di Bose
I-13887 Magnano (BI)
Tel. +39 015.679.185
Fax +39 015.679.294
e-mail:

This email address is being protected from spambots. You need JavaScript enabled to view it.