Concluding Thanks of Enzo Bianchi
Page 1 of 2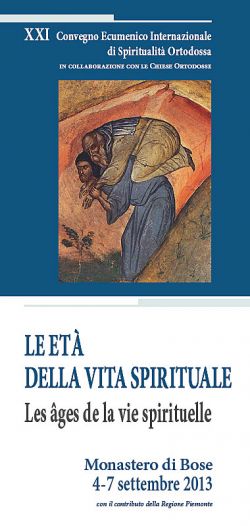 Bose, 7 September 2013
To conclude this 21st Conference, I simply want to express a great thanksgiving to our Lord. It is the Lord who always accompanies us in these conferences
XXI International Ecumenical Conference
on Orthodox Spirituality
THE AGES OF THE SPIRITUAL LIFE
Bose, Wednesday 4 - Saturday 7 September 2013

in collaboration with the Orthodox Churches
Bose, 7 September 2013
To conclude this 21st Conference, I simply want to express a great thanksgiving to our Lord. It is the Lord who always accompanies us in these conferences; it is the Lord who is in our midst with his mercy and his love; it is the Lord who allows us to meet, to listen to each other, to exchange gifts, the gifts that our Churches have and that ought to be shared among those who call themselves Christians. We will, of course, express our gratitude to the Lord in prayer, but it is also a deeply-felt sentiment in our hearts, hence we must express it at the end of these our meetings. And this year this thanksgiving is united forcefully to an invocation of peace, a prayer for peace that we will have now at midday and again tonight at vespers. The patriarch of Constantinople Bartholomew and other heads of Orthodox Churches have responded to the appeal of their "brother in Christ Francis", bishop of Rome, to pray and fast for peace in the Middle East. Patriarch Bartholomew has written: "Let us pray that peace prevail. Only peace will permit the Christians of the Middle East to live without any impediment in the lands where they were born and which are also their lands." In this appeal for peace we will remember the two bishops of Aleppo, Paul and Yuhanna, abducted and not yet released. We will also remember Egypt, especially the Coptic Church, in this moment of great anxiety.
Listening to the talks of great quality that have followed one after another during these days on the ages of the spiritual life, I felt underlying them some words of Dorotheus of Gaza (Discourse 10), words that always accompany us and are always topical: "We are pilgrims who have as the goal of our journey the city of peace".
Often in the various talks the necessity of humility in traversing the phases of the spiritual life has been underlined, when great attention and great discernment are also required of us. I recall the words of Alexander Schmemann: "Christian, brother, be always simple, joyous, radiant. Do not lecture, avoid all external, unauthentic, untrue attitudes like the plague." These our conferences, which from the beginning have had the blessing of the Ecumenical Patriarchate and of the Patriarchate of Moscow, who have always supported and encouraged us, and for some years now also of the other Orthodox Churches, would like to be in that very sense n occasion of sincere, loyal, human friendship, in which are to be found also ways of humility, of reconciliation, of discernment.