Press Release, 29 August 2013
Page 1 of 3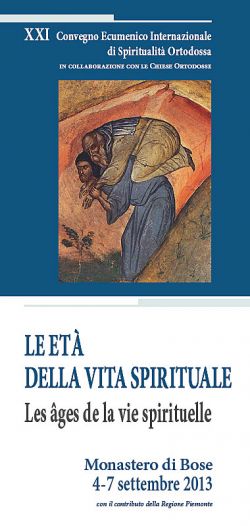 XXIst International Ecumenical Conference on Orthodox Spirituality
The conference in Bose, with the participation of bishops and monks belonging to the Orthodox Churches, to the Reform, and to the Catholic Church and of scholars from various countries
XXIst International Ecumenical Conference
on Orthodox Spirituality
in collaboration with the Orthodox Churches
THE AGES OF THE SPIRITUAL LIFE
Monastery of Bose, 4-7 September 2013
The Ages of the Spiritual Life is the title, inspired by the book of the Russian theologian Paul Evdokimov, of the 21st International Ecumenical Conference on Orthodox Spirituality, organized in collaboration with the Orthodox Churches, which will be held at the Monastery of Bose on 4–7 September 2013.
The passage from one age to another in life is the common experience of all, but is often difficult to live. Contemporary culture, held between the idolatry of immutable youth and the removal of old age and of death, appears to have lost a sense of the bounds between the ages of life and to postpone to an indefinite future the decisions of mature age. In the understanding of the Christian East the spiritual life is essential for authentic human maturity.
The conference in Bose, with the participation of bishops and monks belonging to the Orthodox Churches, to the Reform, and to the Catholic Church and of scholars from various countries, intends to listen to the wisdom of the fathers and to offer a space for reflection on the theme of spiritual maturity through crises of passage and phases of trial. Particular attention will be paid to the final phase of life and of Christian hope in the face of death.
In the inaugural session the speakers will be Enzo Bianchi, prior of Bose, bishop Iosif of Patara, delegate of the ecumenical patriarch Bartholomew ("Spiritual life and Christian unity"), father Michail Želtov of the Moscow Patriarchate ("Baptism, the source of life in Christ").